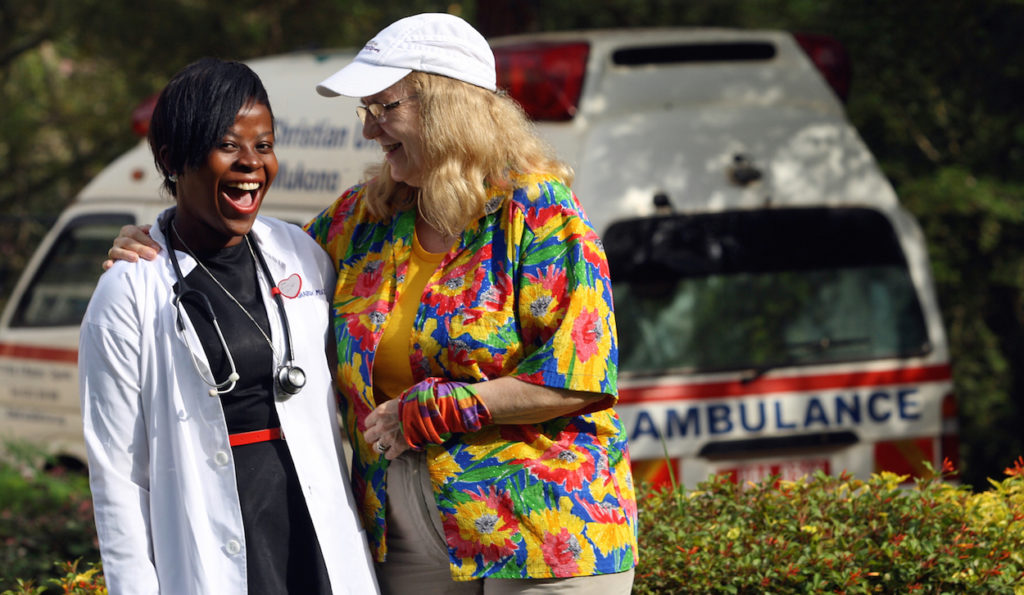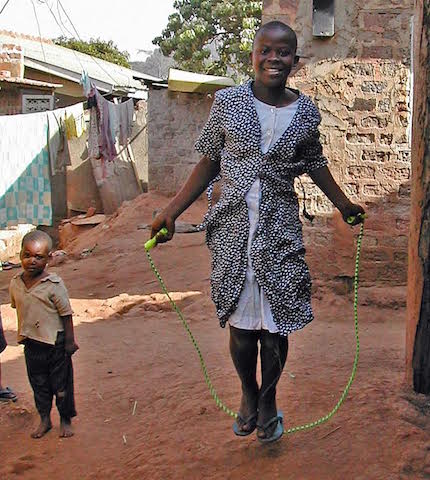 (The Hamilton Spectator – Saturday, November 12, 2016)
KAMPALA, UGANDA ✦ It started with a skipping rope, a plain green skipping rope, the kind you'd find at any dollar store.
It was a simple investment. You'd be forgiven for opting to instead spend the money on your morning double-double.
But what do you do when you can't shake a certain picture from your head? Or a story? Maybe it's from Africa, as so many are, a photo of some poor boy or girl, the sort of photo that often lands on fridges across the rich world.
It was the face of Sharon Mutesasira that struck Diane Reader Jones. Diane saw that photo of young Sharon, a face on a table, in a Hamilton church. It was 2003. Children needed sponsors. Sharon lived in a slum in the Kibuli district of Kampala. She was 13. She didn't know of Diane any more than she knew of Walt Disney.
Covering school fees was impossible for the Ugandan girl. Her mother, a tailor, didn't earn enough to make ends meet. Her father was dead. For the family, even getting enough food was a daily grind.
Diane, a long-time Burlington resident, decided to make the investment. Of course, she didn't know what might become of it. Nobody ever does. This is the nature of it, of investing in people. Ask any parent. They can be as disappointed in their children as anyone might be disappointed in the returns of precious gems on the stock exchange.
Yes, there's a certain blind faith to it all. So, having known my wife and her beginning work in Uganda, Diane asked if my wife could personally bring young Sharon that skipping rope. She did. Other gifts from Diane followed. Simple gifts. Something for Sharon's hair. Pens. Canadian- flagged trinkets.
Time went on. Years. With each gift, Sharon would write Diane a note of thanks. She kept studying. And when Sharon eventually finished high school and was identified by Compassion Canada for her leadership skills, Diane also kept at it. She helped top-up Compassion's support for Sharon's five-year journey through medical school.
When Sharon couldn't afford text books, Diane sent a used laptop so the young Ugandan could access the internet. And Sharon got creative. For costs at the medical university – it's in Bushenyi, near the Rwandan border – she'd wake early to buy discounted clothes at market, fix and clean them, then sell them to fellow students for profit. Anything to keep going.
Now, 13 years on, Sharon Mutesasira has become Dr. Sharon Mutesasira. She'll work as a general practitioner for two years before studying three more in obstetrics. She knows the horrible need of mothers in a place like Uganda, the very need that, interestingly enough, has brought my family to live our own years here.
An estimated 6,000 Ugandan women die in childbirth every year. That's part of a worldwide scourge of an estimated 287,000 dead mothers, the equivalent of two 747s crashing every day. Two jumbo jets down. Yesterday. Today. Tomorrow. Dead mothers strewn across the developing world, not entirely unlike Canada – read the old tombstones in the old graveyards – a few short generations ago.
Sharon wants to help change things. As an aspiring obstetrician in Uganda, she wants to change even small things, the only way to change anything, really. Hers is a remarkable story, with partnerships working on all sorts of levels, a story of a world, her world, already changed.
To celebrate it all, Diane visited Uganda. She finally meet Sharon, just a few days ago. It was something. I was there. Sharon teared-up when remembering her days in the slums of Kampala.
"If it wasn't for people like you, I wouldn't have reached where I am," she told Diane. "I'm thankful for your heart. People can bypass you, whether they have money or not."
And, "I still remember that skipping rope. It was green. We used it and used it. It lasted for years. Everyone would come around."
This is the drumbeat of life here. It's harsh enough for plenty of Ugandans on plenty of days. But with a hand up, something the Sharons of Africa aren't too proud to accept, other days have their joys and songs. Their remarkable twists and turns.
+
Thomas Froese newspaper columns