We're around the breakfast table and the kids are bragging about how old they are, that is how mature and experienced and all that.
Liz makes the point she's in Year 7 now, which, in their international school in Uganda actually means high school. The other two aren't far behind.
Which brings the table conversation to the point that some families have a much larger spread from oldest to youngest. This then leads Jon to ask if someone as old, yes as old, as Mom can have kids.
"Well, that won't happen," I point out, "because I've had the snip-snip."
Then the question, of course, of just what is snipped and the exact size of this tiny tube inside the male anatomy, specifically Dad's anatomy, that has apparently been snipped by his good doctor.
Then Hannah says, "You mean the doctor goes in through the belly button?"
And I had to respond, "Yes, that's it. But first he puts on his swimsuit. Then he gets on a very high diving board and does a big swami dive right in."
"Oh."
Pass the pancakes.
+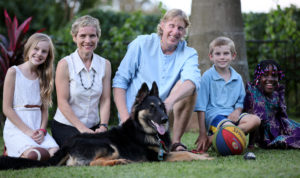 Speaking of family size, here's our new family photo which, new for 2014, now actually includes one addition in the form of Zack, the family dog.
There was a petition about this from the cats, two young mother cats who have been silenced for the moment because, as Jon so eloquently points out to them, "It's time to breast-feed."