Today our family's hat is tipped to the rouge blanc et bleu, the Montreal Canadiens for a marvelous playoff run, one that brought plenty of people in this country together in excitement and nostalgic memory also.
Our annual spring transition from Africa – and it is a transition – was made all the more enjoyable carrying the torch for our team.
Jon in particular grew to a new level of hockey knowledge.
His first ever hockey cards, on the table beside me, were picked up not for five cents and with a stick of gum, like I used to from a local corner store, but at a strip-mall's dollar store.
P.K. Subban was in his first purchase and this 8-year-old's collection got well underway.
"Daddy," he said. "Can reading the backs of hockey cards count towards the reading the teacher wants me to do?"
"It can count for half the time," I said.
Then I pulled out a thousand-page hockey encyclopedia. Jon hoisted it onto the table and started in the middle. There was Ken Dryden. And the rest of his reading.
+
PK Subban was just featured in Maclean's magazine here.
It's a worthwhile read on how the NHL needs someone with such showmanship and ability to depart from what can be old and stifling ways.
And if you missed it from some time ago, here's an enjoyable interview Subban gave with Srombo.
The kids and I watched it the other evening, which then led to some good conversation on not just hockey but the good things that can come from hard work and a supportive family.
+
I don't know what I'll say now during the calls that come asking if I'll support so-and-so in the provincial election. Several came recently.
The predictable schpeel was given followed by a "So can we count on your support?"
"To tell you the truth, I haven't given it much thought. I'm watching the hockey game."
Each time, there was a pause, a really respectful moment of silence. Once, even an apology.
Only in Canada.
+
One of our more memorable photos from our time in Yemen is of our landlord's little boy, Abrahim, a young man now in his university years.
It's a shot I took of him playing some mini-hockey in the lavishly-carpeted top floor of his home, part of my ongoing efforts to bring Canada's game to some of the world's less-likely outbacks.
From the vault, here it is, below, along with the Hamilton Spectator commentary it originally ran with.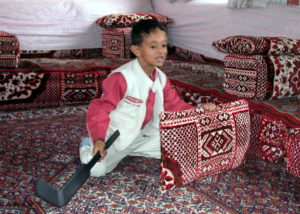 Joy and magic
(The Hamilton Spectator – May 15, 2004)
SANA'A, YEMEN – Confession time. Don't tell my wife, but I live in a hockey book. OK, I live in a few.
They're not like my living room, where I lounge my feet on as many tables as possible. They're like an open space, where I romp around and discover things.
My first relationship, if I can call it that, with a hockey book involved The Bobby Orr Story – a gentle read by John Devaney. Fronted with a colourful photo of the stealthy Bruin in action, it was a Christmas gift from my grandmother in Berlin. I was 8.
I idolized it. Pored over it. Embraced it. I loved skating. I loved playing more. But reading this book helped me appreciate the finer virtues of the game. Indeed, The Bobby Orr Story never imprinted my flailing Pee Wee body into the boards of the local rink, like the Tow Truckers did. Memories.
Eventually, I moved into The Game, Ken Dryden's deftly-penned, behindthe- scenes look at the Montreal Canadians and a particular hockey era. You see, #4 Bobby Orr aside, I was a terribly enslaved Canadiens fan. And in the late '70s, the prime of my wonder years, they were soaking in Stanley Cups like drunken sailors.
Day and night with my buddy Paul, on the street outside our school, Maple Crest, I excitedly announced the play-by-play: "Robinson to Savard to Lafleurrrr!" while Paul flopped around as Leafs' rubbergoalie Mike Palmateer. Later, I'd replay the goals in my mind, slow-motion, like the first time I kissed a girl. It felt so … Canadian.
Years later, I actually read The Game. It was like discovering new rooms in the sprawling, country home where one had grown up. And Dryden had such keen insights, like, "He trudged along, unknowing what he sought, whistling as he went, for want of thought."
OK, that's poet John Dryden. But Ken is better. And these things have all helped me adjust, somewhat, as a hockey nomad in a place like Yemen. It's not easy getting up at 3 a.m. for playoff games two days old, called by strange Yank sportscasters who can't follow the puck.
Thankfully, I'm now shacked up in another book. Dave Bidini's Tropic of Hockey is a manic look at Canada's game in weird places. If San Jose bothers you, you may not want to know of Ivory Coast, Beijing and Transylvania.
Our game is even being born anew in the type of global outbacks where you need to bring your own toilet paper. The United Arab Emirates, an oilrich piece of earth that could cover its ice-pads with gold, has an annual Mighty Camels tourney. They were started by the so-called Father of Arabian Hockey, Chris Reynolds, from Calgary. Desert Yzermans named Yasser and Ahmed play for what the NHL has lost: the pure joy and magic of the game.
In Yemen, where some folks think that sitting on a rock is a good time, my ambitions are more modest. With a few other Canadians here, I need to simply teach the basics. I'm starting with my landlord's boy, Abrahim. He's 9. Like most Yemenis, he's a bit small. OK, he's dwarfed by Sleepy and Sneezy.
So we've started with rug hockey, played in the place of honour in Yemeni homes, a top-level, lavishlycarpeted and cushioned room called a muffridge. Later, for respect, and maybe for ball-hockey, Abrahim, should have a Team Canada jersey.
I wear mine regularly. Jean says that on my first visit to Sana'a, greeting me at the airport, with my fire-red shirt amidst the white robes, she asked "Lord, what have I done by bringing this guy here?"
Another time, at Frankfurt's airport, a clerk who let me in the airport's private business lounge must have confused me for a Team Canada player. Anyway, oddities like Jamaican bobsledders or Eddie the Eagle aside, the task is large. If the Calgary Flames win hockey's Holy Grail this year, maybe Reynolds can help bring it to Yemen for viewing.
Otherwise, little Abrahim may be my only hope.
I guess, in the end, though, if all else fails, I can always resort to getting him you know what: A good hockey book to live in.