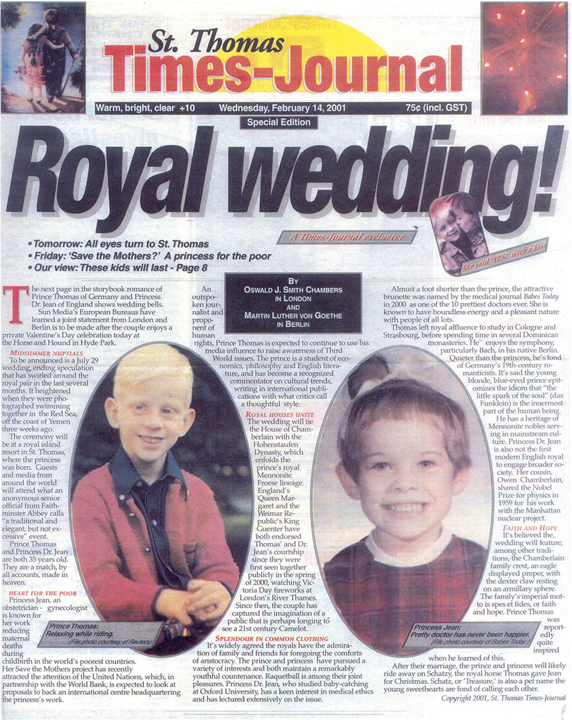 (The Hamilton Spectator – Saturday May 19, 2018)
Long before the children's mother came along, I wanted to marry Queen Elizabeth. Or Mrs. Clark. Or Dianne Blouin.
Dianne was an angelic presence and the sister of my classmate Michael. She was 12, older by two full years and clearly out of reach. The best I could do was get a photo with Dianne. It included Mike, but I cut him out to leave Dianne and myself as the happy couple. Then I taped the photo to my bedroom wall which, naturally, impressed visiting friends.
Prior, I had loved Mrs. Clark, my Grade 2 teacher, a striking brunette with silky-smooth skin who'd often ask me to read aloud from our primary reader, Mister Whiskers. Despite the depth of my feelings, this love also was unrequited. One day, when Paul Pittawanika and I couldn't stop laughing and laughing and laughing, she sent us boys from class to the office where, for our good humour, we received the strap.
Even facing punishment in the principal's office, though, I could gaze up at the queen, my first and truest love. No matter what room you were in at Maple Crest School (such a fine Canadian name) young Elizabeth in those old portraits stood stunningly with crown and sash and royal radiance. I daydreamt about her especially in mornings, when we sang God Save the Queen.
This all comes to mind because of Child #3, my youngest daughter, Hannah. Her class hosted a poetry-reading lunch for Mother's Day. The children's mother couldn't attend, so, for Hannah, I did. "Hello, my name is Thomas. I'm Hannah's mother."
You can imagine the looks. Especially since I wasn't wearing a spring hat, this event's other component. I thought I'd fallen into a Jane Austin novel. I was the only man there. And hatless. This is when I blanked out to daydream about my early life and loves at Maple Crest.
(The children's mother later told me, "You have shoulders that are wider than any man's from that school." Gosh. I hadn't realized that I'd somehow proven my fatherly mettle by simply going to where I was asked.)
But it's not just me. Love and royalty are on all of our minds because of today's nuptials of Prince Harry and Meghan Markle. By now we know every factoid – from where Meghan's ring originates (partly from Diana's jewels) to the cost of that dress (upwards of $500,000) – to be ready for today's big event at Windsor Castle.
More significant to me, this weekend happens to be the anniversary of when the children's mother and I had our first date. We were to meet at a ballgame with a group known somewhat hopelessly as The Over-30 Unclaimed Precious Jewels Club. When nobody else showed, the two of us skipped the game, had dinner, and watched Victoria Day fireworks. Every year we still take time to celebrate.
Which is to say a few important things.
First, love is both powerful and powerless. It may conquer the heart like few things can, but love will conquer nothing without consent. I learned that at Maple Crest.
Second, you can love someone, or at least find a variation of love, without really liking (or even knowing) them. This happens all the time. Charles and Diana come to mind. I mean, had I married the queen as a boy, who knows what hidden royal habits of hers might have driven me to drink. So love your partner. But more so, like them. To serve them.
Finally, never underestimate the power of mystery. I married up, as they say. I still don't know how this happened except to say that larger forces were at work.
Consider that on the day I proposed to my sweetheart, I unveiled and distributed my engagement creation, a spoof Royal Wedding newspaper, only to later discover that we'd unwittingly married 20 years to the day after Charles and Diana. Now add today's happenstance, Harry's and Meghan's wedding falling on the weekend of our first date.
It's enough to make any commoner believe that they're royal.
Of course, this wedding season you'll hear plenty of other things about love and marriage and the whole dizzying lot of it. But most is just babble and won't help you.