So, I went for my morning swim as usual today, the only difference that the pool was in Canada where, normally, in November, I am not.
And after I finished and walked out through the lobby, the day's newspaper in hand, the gal at the counter called me by name and said the boss, that is the CEO and president of Hamilton's YMCA, wanted to see me.
I wondered if this was going to be like a visit to the principal's office for some violation I wasn't aware of, but no, all was well, and the boss — his name is Jim — just wanted to introduce me to some other Y officials who happened to be in the building.
And so I joined them briefly watching a touching video of a Y-sponsored camp for needy kids before Jim explained to everyone that I had been the keynote speaker at the Y's annual Peace Breakfast the morning before.
And I thanked everyone again, not just for the chance to share — my talk was on The Nature of Peace — but for the surprise Peace Medal that came as part of it.
The award was for the entire Froese Family, and this will be very helpful when soon returning to the children who have been without both Mom and Dad for some days now back in Uganda.
I had explained to the breakfast crowd — there were about 500 at the Tuesday breakfast — that the children have, in fact,  been in the good care of the family dog, Zak. But even the best of dogs, and kids, have their limits.
So presenting them with the Peace Medal will only help.  This is what I told Jim. It will all be good for the kids.
"So will this," I said, holding up the paper, today's Spectator, which has a piece on our family including a photo of the kids.
"So thank  you again," I said. "I now travel back to Africa through Istanbul. All I have to do is pick up some Turkish Delight and I think all will be well."
Do you think German Shepherds like Turkish Delight?
+
Congratulations again to all involved with the Y Peace Medal event: organizers and volunteers, nominees and winners, others behind the scene. It's an annual event that distinguishes Hamilton, one I hope continues for many years to come.
+
Today's Spectator article on the Peace Medal Breakfast and our family's surprise honour can be found here, or below.
Journalist and family honoured with surprise peace medal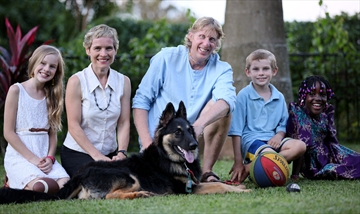 By Nicole O'Reilly
The Hamilton Spectator
Author and journalist Thomas Froese and his family were honoured with a surprise award at the YMCA Peace Medal breakfast, where he was the keynote speaker.
Froese, his wife Dr. Jean Chamberlain Froese, an obstetrician and founding director of Save the Mothers, and their three children spend eight months of the year in Uganda and four in Hamilton.
Froese, whose writing focuses on news, travel and life in the Middle East and Africa, called the award a "nice surprise."
He said his kids will love the medal and be happy to know people were thinking of them.
Froese and his wife flew back to Hamilton specifically for the peace medal breakfast, an event he called "remarkably unusual."
That hundreds of people get together to celebrate peace is a wonderful thing, he added.
Froese, who writes columns for various newspapers including The Spectator, told the crowd that a peacemaker is someone willing to take on more suffering than they dish out. But it also comes with its own rewards.
"Hamilton is a blessed community," he said.
Froese pointed to the recent killing of Cpl. Nathan Cirillo, the Hamilton reservist who was shot while he guarded the National War Memorial in Ottawa. In pain, there is a "strange beauty" of people drawn together, he said.
"His death shows the paradox of peace … the greater the loss, the greater the peace," he told the crowd.
Froese says he simply sees himself as a writer and a father. But it's also important for people to recognize that you don't have to do something "dramatically special" to make a difference, he said.
Nicki Glowacki, vice-president of community operations for the YMCA of Hamilton/Burlington/Brantford, said it's "inspiring to see the work that is going on in our communities that I don't think people realize is happening."
In particular, she pointed to the work of young people as inspiration for others to make a difference.
She hopes "we can get all our young people thinking that all the little things they do can change the world."
Glowacki said many of the nominees this year did work to shed light on bullying and raise awareness about mental health.
After the breakfast, Froese signed copies of his new memoir-style book, "Ninety-Nine Windows: Reflections of a Reporter from Arabia to Africa and other Roads Less Travelled."
He said he's working on a followup book and a novel.
Other YMCA Peace Medal winners