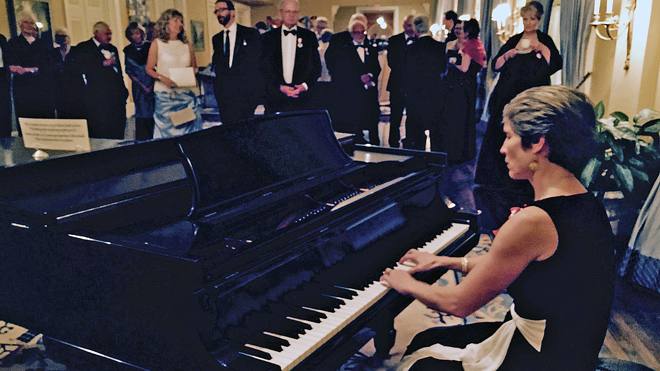 (The Hamilton Spectator – Friday, July 29, 2016)
HAMILTON, CANADA ✦ It's a warm and ordinary day, warm and ordinary enough to run around in shorts and bare feet.
The children's mother, your babe, that is your bride, is playing your song. The cats are in front and the dog's in back and the kids are doing homework and nothing much is happening, except this song from the piano in the other room, the piece that makes your blood jump every time.
It's in Uganda, but your bride composed your song while she was still your bride-to-be, living by herself in Yemen. There, you'd also hear it, even as you'd hear it in your first home in Hamilton. And, before that, for the first time, on the day your bride somehow snuck a piano down the 401, stood in her wedding dress, and played it gently for all those guests.
She called it Surprised by Joy.
She's played your song in other places — at a big party in an old Dundas farmhouse; in a chapel at a place called, fittingly-enough, Crossroads; at Rideau Hall in Ottawa. Strolling from one Turkish-carpeted room to another, wine in-hand, you heard, "Excuse me, Mr. Froese? Your wife's waiting for you."
So she was, intelligent eyes and high cheekbones and all, sitting at a fine piano formerly owned by Glenn Gould. Yes, she played Surprised by Joy on that piano in an Order of Canada reception that was, in fact, all about her, not you.
You don't know how you got here, not to your home on the other side of the Atlantic any more than the other side of the moon. It was the vows. That's how you got here, you suppose, with those vows: her hands in yours and yours in hers, those words about love and comfort and honour, in riches and health and sickness and poverty.
But you didn't know what you were saying. Nobody does. Not really. And before those vows, the choice. It was a choice. It is a choice. Love has to be, even when you feel the wind blow your small boat into the ocean of it.
And before the choice, that first date. You two, just met, went to join common friends at a ball game, only to discover nobody else showed up. You skipped the game, had dinner, saw fireworks, then drove down the midnight highway to where every first date surely desires, to the newsroom of your employ.
And before that? The long preparation. This was when, despite yourself, you somehow learned all that mattered, that no amount of work in any future marriage is worth as much as a wise choice to start.
So don't marry too soon. Or too young. Don't be too eager. Don't marry to please anyone else. Do date enough to learn about others. Be realistic. Don't marry anyone with, you know, behavioural issues. Avoid shacking up. The heartbreaking research shows these are marriage's fault lines. Pray hard. Really.
Sure, there are other ways to go about it. But they don't work.
Remember Charles and Di? Thirty-five years ago today 750 million people watched and cheered their big day. Then? The Hindenburg fared better.
Twenty years later, July 29, 2001, you'd marry your bride. For the first time, you'd hear your song. It was a strange and unplanned anniversary, a warning if nothing else.
You're now on your fourth wedding ring. The first — gold and diamond and everything — was lost in an Ontario lake; the second, somewhere in Africa; the third, in a hotel. Your 10-year-old bought Number Four for your birthday last summer at a beachside trinket shop. "Dad, you need a new wedding ring," he said.
You now wear that $12 ring with wonder. And relief that a marriage is more than a ring.
You're not musical yourself. It's one of your gaps. You play only the stereo. But then, one warm day your wife rolls in and steps from the vehicle. You yell through an open house window, "Hey, it's the music of my life!"
It's just another day where the water of ordinary living has been turned into some kind of wine. So you write about it. You say "Happy Anniversary, Babe," surprised, like her, by the mystery of it all.
+
Thomas Froese newspaper columns