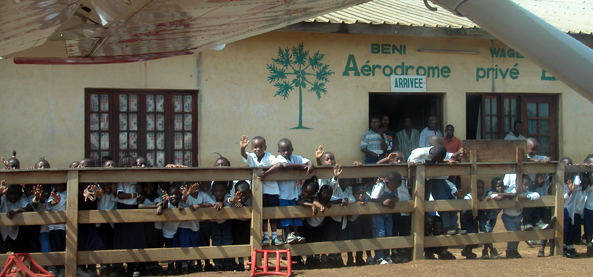 (The Hamilton Spectator – Saturday, December 24, 2016)
MUKONO, UGANDA ✦ It was just past sunrise in Congo at a mission refugee camp. This is when I walked into it. It was a certain and gentle light. It was in a church. I was alone.
It wasn't much of a church, just plain with a dirt floor and simple benches and open ceiling. The space was empty. Still. Voiceless.
My wife and I had landed nearby in a small plane, somehow missing a goat on a field that someone called a runway. Waving children had lined up to meet us. We were visiting Canadian friends. Then, later, that light.
It comes to mind because it's Christmas. And this sort of experience, this sort of border crossing, it seems to me, is at the heart of this holiday.
In a distracted age, it's easy to miss this. Even as it's easy for those who claim to follow the God of Christmas to miss the truth that they too are simply visitors in a foreign land.
But every year the earth reaches a place on its arc around the sun. And Christmas arrives to declare, 'No, this is not your home. Remember, your God was a stranger in a foreign place too.'
Of course, even travellers in an earthly sense need a home. My family's Ugandan residence has been this — home. It sits on rolling green hills of a university campus. It's a simple but comfortable bungalow with a blue, tin roof, amid trees filled with monkeys. You'll often see me outside, in bare feet, thinking about one thing or another.
A Christmas tree decorates our living room. Fifty Ugandans recently came for an evening of carols by candlelight. In the morning, our children will open gifts, even as Ugandan children will. Meat, a rarity for many Ugandans, will be eaten eagerly with thanks. People have hopes and fears here as you have hopes and fears there.
Christmas around the world has these commonalities. Now, after most of these past 12 Christmases in Africa, this is my family's last. It's been a discovery. A journey. We've seen both light and shadow. Both pain and joy. Like anyone's life.
I suppose this is why I like to sign my book, a collection of newspaper columns, with 'Joy on your journey.' (Once, for my then five-year-old, I signed 'Dear Elizabeth, Love Dad.' She insisted, "No Daddy. You write 'Joy on your journey' like you do for everyone else." The children, somehow, know.)
There will always be people who question this. Some believe that they've already arrived. For them, life is a fixed position more than any progressive unfolding. They're stuck. Others will say, sure, life's a journey, but it's a meaningless trip: an odyssey with a view but no destination. That's their quiet desperation.
The God of Christmas arrives with something else. He comes with what Marshall McLuhan said when he told an entire age that "The medium is the message."
The medium, according to McLuhan's original rendering of this phrase, is, in fact, Christ Jesus, Emmanuel, God with us. It's the Creator, journeyed in skin and sinew and laughter and tears and everything else that's deeply human, journeyed here to this beautiful and terrible ball in space.
And the message is that He loves this uncertain world more than anyone can (or bothers to) imagine.
This time of year has plenty of messages that may or may not have much to do with this. But today's news — The Globe and Mail, Maclean's and The Guardian recently reported it — is that churches with this orthodox understanding of Christianity are today's growing churches.
This is what I sensed in that empty sanctuary in Congo. It was awe. This Christmas, you might walk into some church and find something similar.
Then again, this spirit, this wind of freedom and peace, is as likely to fall on you when you're walking in the snow. Or standing at the bus stop. Or with company. Maybe in the barn with the animals. Or even reading the paper. On any day.
It falls in the midst of real life and the gritty questions that real life asks. It always falls with a rhythm unforced. It asks for everything you have. And then for what you don't.