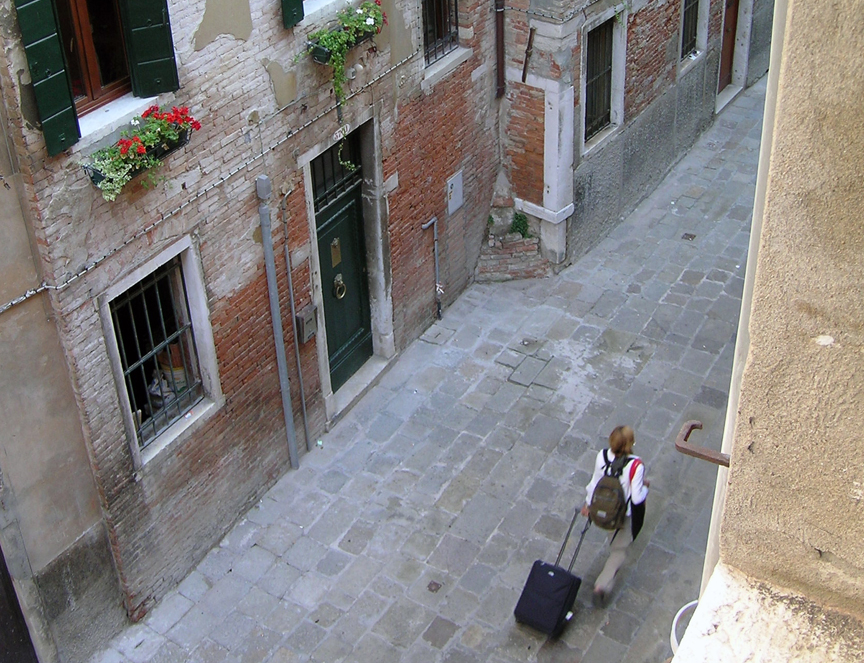 A young traveller pulls her suitcase along an ally in Venice — leaving one place to arrive in another.
Thomas Froese Photo
(The Hamilton Spectator – Saturday November 24, 2018)
Today let's talk about selling vacuum cleaners door-to-door.
This was me sometime between boyhood and manhood, a time when the grey matter and the white matter in my brain was still developing, still coming together. I was leaving one place to arrive in another, me and my suitcase and my first car.
I'd just left home for the second, and second-last, time. Growing up can take time, you know. All the more true for today's youth. More on this in a minute.
But about selling those vacuums.  You meet all kinds. And there you stand.
Knock-knock. "Yes, Mr. and Mrs. Smith? Yes, I have this very fine silver tray for you, free, of course, yes, completely free because you filled in that coupon at the mall. All I need is some of your time so I can demonstrate this remarkable vacuum cleaner." You can imagine the rest.
The homeowner may not seem very interested, but out comes the chrome and the hoses and pipes. The machine is plugged in. There's carpet to clean, so levers are pressed and dust and hair and small grimy things are collected. You'd be surprised what we collect every day of our lives, every night, flakes and bits and pieces of ourselves that we leave behind.
One time the lady of the house was so disinterested that she stood up and called the police on me. So I left. In a red-hot hurry. Yes, if life is anything it's a series of leavings. And arrivals. I've left certain homes, even as I've left certain sales jobs, and certain relationships and, a couple of times, certain theatres before movie's end. Once I left a satellite TV provider.
For that departure I spoke with a young man whose job was to convince me to stay. Instead he simply told me his story. He'd left home when he was 18 and, in his first step to study law, got in his car, drove until it ran out of gas, and launched his adult life in the city where his car stopped. A different salesman, he was.
In our time there's been the death of this salesman, this door-to-door type, which is why all this comes to mind. I've just a read a report about this death, and the various other jobs that are now going, going, soon gone, replaced, or soon to be replaced, thanks to automation and the internet and such changes.
It's reminded me of when I was young and experiencing work that helped me muster some courage in my life. And God knows we all need to learn courage.
Which brings us to young people and their longer maturing process, young brains wading through new generational waters. Intellectually, they know more sooner than ever. But their need is volitional and emotional and spiritual. It's a need for resiliency.
This is the research. Youth don't need more information as much as the ability to process the Niagara of information already coming their way.
Also, some don't feel connected to real life with real people. It's like being strapped to a desk, day after day, building a never-finished resume for a tomorrow that never comes. Imagine surgeons operating on cadavers forever, or teachers only teaching to cameras, or plumbers stuck with fixing fake leaks.
What sort of life would this be? Tasks with no meaning, never mind a sense of higher calling. There's no leaving. So there's no arriving.
So be careful not to overprotect your kids. Rejoice when they take a chance, even one you wouldn't take. Give them space to fall. Invite them into the adult world of tangible challenges and rewards. Above all, love, because love covers a multitude of your parenting sins. This is what I tell myself these days, my family on the cusp of three teens in our home now.
Each will eventually emerge into adulthood with their own story. I doubt any will involve vacuum cleaners. But, with any amount of good fortune, there will be something – something hard, or unexpected, maybe half-baked, or maybe out of nowhere – that will get them into a place that's meant just for them, a place with their very name written all over it.