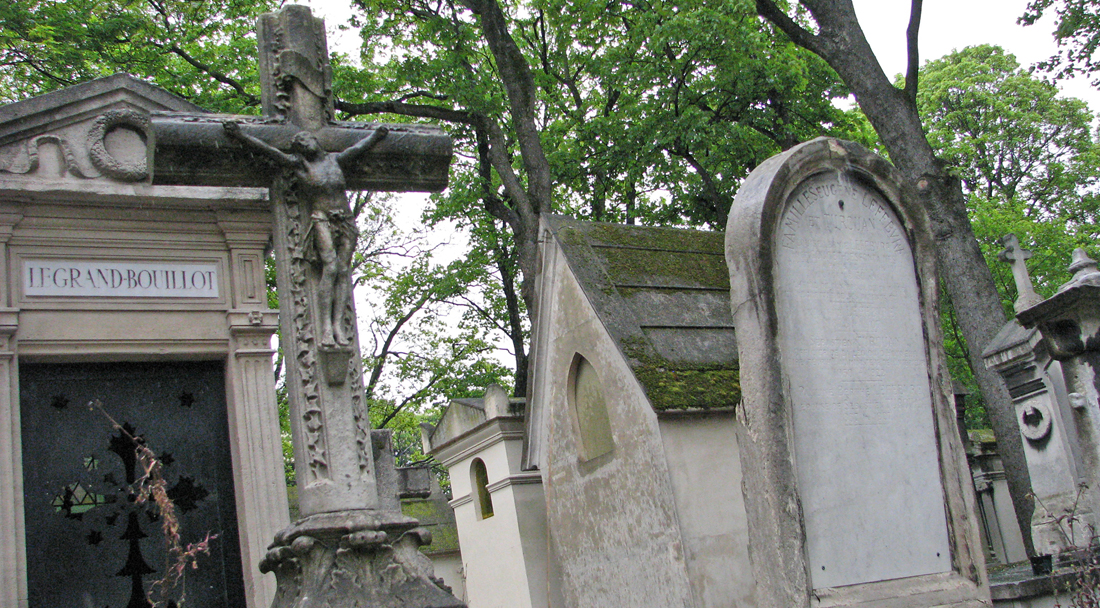 (The Hamilton Spectator – Tuesday, October 31, 2017)
I walked through the cemetery today. I often do. It was me and the cold and the wet and my old umbrella.
The umbrella is covered in deco of old newspaper headlines: the Jays won the World Series; Gorbachev was dismantling the USSR. My umbrella and I blew around like the news of any day. It felt good. In a cemetery it always feels good.
On my first photo assignment I went to a cemetery. That was in journalism school. Years later in Berlin, then Paris, I took my children to cemeteries close to my heart: one where my mother was laid to rest when I was a young boy, another where, around the same time, Jim Morrison was buried.
Morrison – with Chopin, Bizet, Proust, and Oscar Wilde – is buried at Père Lachaise Cemetery, a sprawling space of winding cobblestone roads and arching chestnut trees, 100 acres and 70,000 tombstones, many cracked and leaning in antiquated elegance.
We visited largely because of an old Steve Taylor song, "Jim Morrison's Grave," a wildly satirical piece on death's finality, an alarmingly energetic four-and-a-half minutes that I'd play on cassette so often that the tape finally snapped.
The children also know cemeteries closer to home. In Ontario – in Creemore and Kitchener –  they've visited plots of their great-grandparents. In Hamilton they've seen historic tombstones. They've ridden bikes through the beautifully-terraced Dundas Cemetery near our new home.
Some empty land nearby may also soon become a cemetery. I've already visited Town Hall to inquire. (One can never be too early, it seems to me, in making one's burial arrangements. Yes, they can bury me in Dundas.)
My children laugh about this peculiarity of mine. But every tombstone is a story. There's so-and-so who died on such-and-such day. Look, her husband died a day later. Of a broken heart, no doubt.
Death does that. It brings clarity to life.
I previously wrote in this space how I once saw a man die in my father's arms. Also, you see things when traveling, especially in developing nations: the cold body of an accident victim, there, in Uganda, beside his crumpled bicycle, nobody bothering to cover the corpse.
I don't bother celebrating the darkness of death in that other sense. The hockey game was on the other evening. In the midst, a ridiculously frightening ad for a Halloween movie with "Happy Death Day!" My son looked away, quietly. My daughter screamed, "Daddy!"
No, it's not such fears – the zombies and flying cups and spinning heads and such – that are very interesting, not in the long run, not to me, anyway, and not to most people, I suspect. The best approach to all that nonsense is to simply make a spectacle of it. Sleep overnight in a haunted house.
I did this once. It was Halloween night. My newspaper employer had heard rumours of the haunting. Somehow, I was sent to investigate. The next day I landed on front page, there, with my sleeping bag and reading material – Great Canadian Ghost Stories – at the old ivory-towered mansion, a former girl's college allegedly haunted by a teacher named Angela.
That affair unfolded around the time my old umbrella was made. It's an offbeat memory. But if it's true that the barrier between the living and the dead is somehow thinner at this time of year, then, sure: Happy Death Day.
After all, Halloween (literally holy or "hallowed evening"), is celebrated only because All Saints Day, a public holiday in some countries, immediately follows. That's the day when the world's saints, that is believers throughout history, now dead, but not really dead, laugh because they know that a clear and present power over death is held by the One they worship, that is Christ.
It's easy to imagine these saints hovering overhead, even now, like some great cloud of witnesses. In a cemetery, it's especially easy to imagine. It's easy, also, to imagine why these saints have called their God, among other things, a grave robber.
It's a fine title, really. Grave robber. As apt as any title can be. Yes, for the long tomorrow, Christ can ravage my spirit and rob my grave on any day of any year. No matter where they put my bones.