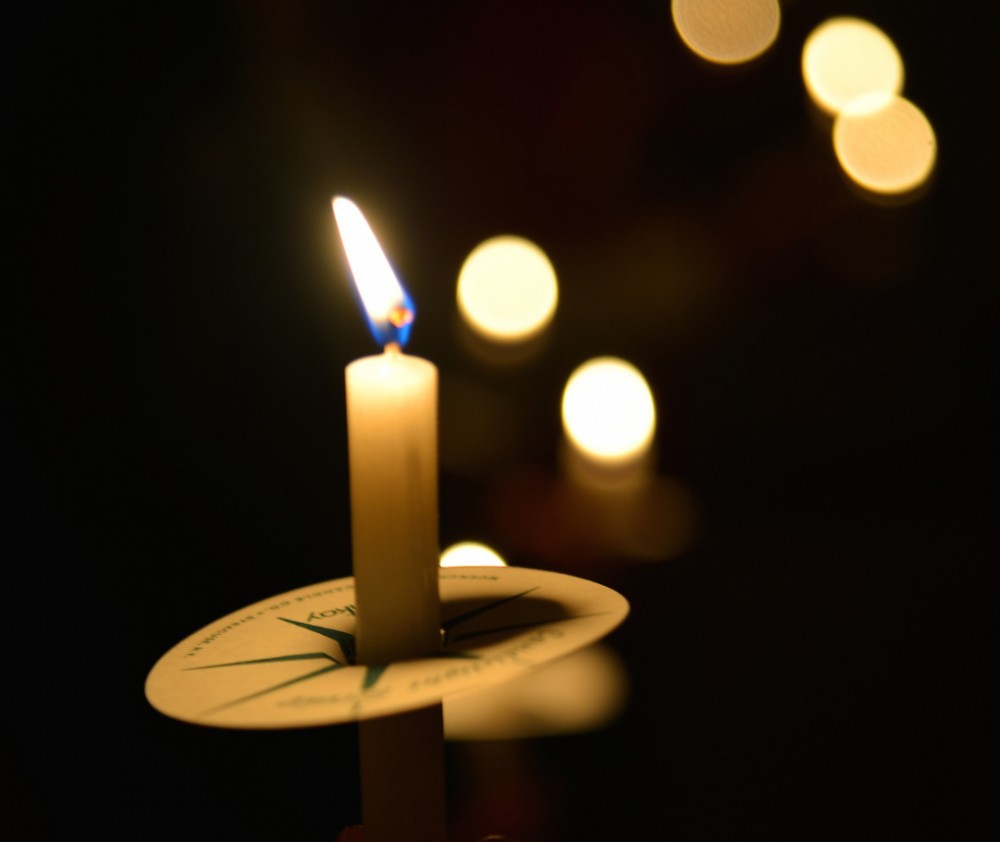 (Christian Week – December, 2014)
Today in the food court there was a piano. The pianist, wearing a red Santa hat (naturally), finished "Jingle Bells" through the dull roar of shoppers, their winter coats unzipped, hats aside, while they sat and talked and ate KFC or New York Fries or whatever they happened to have.
Then a young woman, scarf thrown loosely over her shoulder, stood and put her cellphone to her ear. Strangely enough, she sang into the phone. And her voice, somehow, melodious and majestic, carried through the entire food court. Brows raised. Heads turned.
From the opposite side, a young man, dark and unshaven, joined her, but not before he stood on his chair. People turned to him. Then two more, one man, one woman, at the ATM. More singing, clear and beautiful as a morning bird.
Then, with a burst, the cleaning guy, of all people, carrying one of those yellow "Caution: Wet Floor" signs, joined in. It was "hallelujah!" Then more voices. More "hallelujah!" More people then rose to their feet and soon you couldn't tell who was in the choral conspiracy and who just wanted to be.
Two young men behind a food counter, arms folded, didn't know what to think. A twisted boy in a wheelchair jerked his head appreciatively. Two silver-haired women wearing glasses smiled. Another boy, eyes as big as saucers, took his mother's hand as if he was watching nothing short of a landing from outer space.
It might have been "Adeste Fideles" in St. Peter's Square or "Heilige Nacht" in some gothic cathedral where the faithful normally gather, but no, this was simply in the marketplace, Handel's "Messiah" in a mall in Welland, Ontario, near where I grew up, all for tired and hungry shoppers needing a lift, everything captured, like these flash mobs often are, on camera.
Then it ended. Someone rustled a newspaper. People returned to their food. Some had to leave. Even so, something lingered.
It was a moment in time, but not that any clock could measure. Rather it was a holy time. God, or at least something of God, had entered the common, the routine, and not even the canned jingles piped in from the loudspeakers of the age could drown it out.
It's easy for believers to think Christmas has fallen into something else. "Nobody says 'Merry Christmas' anymore." Or, "We can't even have a nativity at city hall." Or, "Halloween is taking over!"
As if any of this phases the sort of God who pulled off not only the first Christmas, but who lays claim to something even more miraculous, that is the glorious and muddy human heart.
Yes, the first Christmas was for the skeptical and the hopeless as much as anyone. Just like it is today. If Emmanuel, God with us, that is God with us even dimly, even through the dark glass of the zeitgeist, means anything, it means Christmas isn't just about what happened in that faraway time and place, but very much what we're still experiencing now.
No, fear not. Sing. Sing that ancient Hebrew song—'hallel' meaning a joyous song, and 'yah,' short for YYWH, the Creator—even as 'hallel' can also refer to someone like a mad fool, like, say, a God who can't stop His outrageous love for the loveless.
Don't sing because you have it all together. Sing because you know you don't. Maybe someone will hear. Maybe hope, even for a moment, will be born again.
+
+
Thomas Froese newspaper columns