So, we, the five of us, have been out of Africa for a bit, and taking the long way home to Hamilton, and are now in the United Kingdom, specifically in Stratford Upon Avon.
Diana, (yes, like the mother of Prince William), is our B&B host and it's breakfast and she tells us with a laugh that we're the first guests in 24 years who have asked for streaky bacon.
Funny, considering that enough Canadians – I'm thinking of Bob and Doug in their toques, eh – are known more for their love of back bacon.
"But I have some because my granddaughter loves streaky bacon, so it's okay," Diana tells us.
That gets us talking about family and grandkids and all that, and eventually the Queen. It is her 90th, today, after all.
Yes, the queen is 90 and The Kingdom is full all things Elizabeth. It's all over the streets and the televisions and magazines and whatnot.
"She's incredible. She's done a wonderful job," Diana tells me.
Sure, but what choice did the queen have? This is the question to think of because, you know, if I've thought of it, so have at least a few others. You're born. You're given a crown. You use it.
"She could have done it reluctantly," the Children's Mother notes.
Okay, that's true.
+
Kids come and grow up and leave, everyone knows, and this is no less true in England.
Most of Diana's grandkids are nearby, though, and this is also why we are talking about the importance of family, how, as you get older, you tend to see the greater importance of being geographically close.
This somehow gets us on to the topic of motherhood and the rights of mothers, which is very close to the heart of the Children's Mother; this is, after all, why we live and move and eat our breakfast in Uganda so much of the year.
We're all created equal, at least before God. But it's a fight, one that, even when it's winnable, takes time. This is what The Children's Mother says.
Diana then shares about her father, who worked in the British factories. A foreman, he was able to get some showers in place at the factories so that the men didn't go home on the buses all full of grime.
"So when did you shower last?" I ask Jon.
He reminds me that we went swimming the other day while in Oxford. (In an outdoor pool, no less.)
+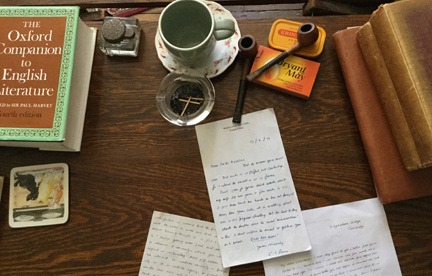 A highlight of Oxford was visiting The Kilns, that is the long-time home of C.S. Lewis, who is known by children around the world, if not Disney, as the author The Chronicles of Narnia.
I've mentioned these stories often enough, stories that my own children have now heard either via their Daily Dad or some other voice (via audio book on the morning school run); they've read or heard all seven of these stories.
Even those unfamiliar with Lewis (or the fact that his fuller body of work relates more to literary academics and Christian apologetics) are familiar with one Narnia chronicle entitled The Lion, Witch and Wardrobe, which, if you didn't yet know, is playing this upcoming season at the other Stratford, the one in Ontario.
(The Canadian Stratford is the Stratford where 30 years ago I interned at the daily newspaper, the Beacon Herald, where I did a few things for a few months and hung around even longer than expected, but from where, eventually, even in the dead of winter, I had to move on: it was, after all, not where I was meant to stay and hang my hat.)
+
If you really want a literary and spiritual ride, and a great introduction to the deeper and wittier Lewis, do go for The Screwtape Letters, which you can learn more about here in this letter to Dellen Millard (yes, that Dellen Millard now on trial in Hamilton for the murder of Tim Bosma.)
+
Literary issues and fish and chips, of course, go together rather nicely, which is why this is what was eaten by Yours Truly at the Eagle and Child, the pub in Oxford where Lewis and JRR Tolkien and other writing buddies – the called themselves The Inklings – would meet and share their latest literary attempts on messianic lions and eucastrophe and such things.
More fish and chips arrived on the table in front of me in Stratford Upon Avon yesterday when we were at Stratford's oldest pub, The Garrick, where a bust of Shakespeare was behind Jon – the place is older than 600 years old.
+
So at The Kilns we saw where Lewis, known as Jack, lived, and where he also died. He died of heart issues in a small room overlooking some green outside on November 22, 1963, the day another, Jack — Jack Kennedy —  was shot in Dallas.
We stood in this room and saw this and that, and we stood in another bedroom where Lewis had stayed longer, a room with a small desk just outside it, barely larger than the school desk I remember from my own school days, a desk where the Oxford don sat and ruminated and changed his corner of the larger world.
On the tiny desk sat a couple of smoking pipes and some letters that Lewis wrote, and few other things, and I couldn't help but pick up the pipe and pretend I was, you know, having a puff, while The Children's Mother snapped a photo.
You may find this a bit odd, but not as odd as the fact that Lewis and his brother Warren, who also lived in The Kilns for years, would apparently dump their pipe ashes on their own living room carpet and rub the ashes in, then laugh and pretend that this would somehow keep them safe.
It was a sort of inside joke, inside knowledge, as is the fact that neither Jack nor Warren were all that concerned about their personal cleanliness. This is sort of interesting, but not as interesting as the fact that Lewis – this according to those who knew him from Holy Trinity Church in Oxford – was also a very aloof man, even with children.
He would get to a service, stay in the back, and slip out before he had to interact with anyone, which may not be a total surprise considering how pure an academic he was in large part, but is a surprise considering how those Narnia stories have touched so many millions of children over the past 60 or so years.
Which is all to say that even great souls have their idiosyncrasies.
+
The Children's Mothers, by the way, spoke at Holy Trinity in Oxford about our work in Uganda with Save the Mothers, and then congregants who stayed a bit later also had the chance to have a glass of wine and watch this very riveting video of our family and work, starring, yes, the Children's Mother.
It really has been a full few days – in Oxford we also cycled with a friend and guide named Merlin (Merlin!), a helmeted and bearded British medical doctor who also just finished his doctorate in things related to his research in maternal health in places like Uganda.
Yes, the days have been so full that when Jon – the boy I like to brag about for his keen sense of these Narnia stories – awoke on the morning of the cycle to The Kilns, he asked, "What are we doing again, today? We're going to the house of Frankenstein?"
"No, Jon."
"C.S. Lewis," I said.
"Oh," he said. "The names are so complicated."