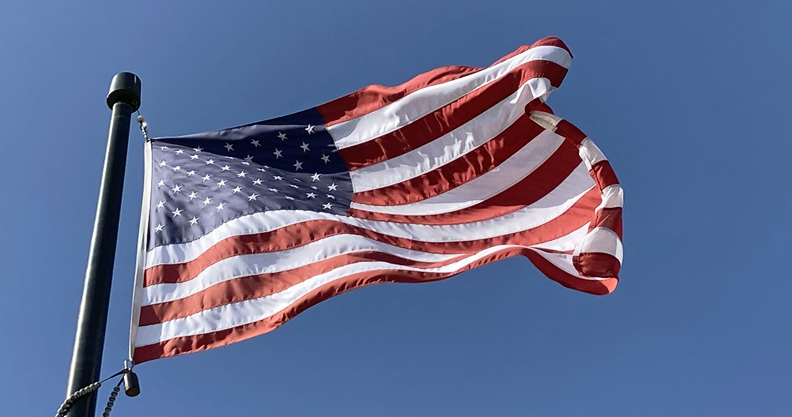 (Thomas Froese)
(The Hamilton Spectator – Saturday, November 5, 2022)
It's a fall day in rural Illinois, near Chicago, and, as I often do, I'm reading aloud to my bride. We're across the border briefly. It's just the papers with us.
USA Today is in-hand. The Detroit Free Press and Kalamazoo Gazette, in the car's back seat. I'm looking for a Chicago Tribune. We pull into a food outlet where I find no papers, but, instead, near the corn, a display of American flags.
Thank you. Ideals of valour and purity that a good flag can embody can bring a semblance of sanity to even the craziest of times, one hopes. Yes, America's papers and radios and TVs are filled with the Nov. 8 U.S. Midterms.
It's no small deal. During the last go, in 2018, voter turnout was its highest since 1914. Now, depending on who you believe, or, more so, who voters believe, America the Brave may be continuing its strange march to some unholy place that might blow its noble 246-year experiment with democracy to kingdom come. Or rot it from within.
The paradox is that the times, notwithstanding a looming global recession, have been good. Of course, there are always those who will tell you otherwise. Because in politics it's easier to defeat your opponents by demonizing them. Easier to tell of life's unbearable burdens, and how grand things would be if you're in charge.
Then there's so-called identity politics, the exaggeration of differences in race or gender or religion or class or go down the list. As if nothing on God's green Earth transcends human differences. As if differences have no purpose. As if we've never faced larger giants, world depression and war, for starters, while different, sure, but united.
United. Imagine this. Some candidate stands up and says this: "For seven decades, we, the west, the world's 'One Per Cent,' have had more wealth and peace than anyone on Earth, more daily conveniences than even history's kings and queens. This, from the leadership of both my party, and, in truth, my opponent's party, alternating power."
Or how about this? "I'm a human being. So is my opponent. So I stand here with knees knocking because of the magnitude of political life, a vocational office that, in its highest reaches, has the potential to annihilate human life itself. I humbly, then, request your vote. But if you choose my opponent, we'll still be OK. No, really. Go in peace."
Would it fly? Even in Canada? Where we're proud to be moderate and, well, not American? No, in some ways, when facing spiritless despondency, we're not so different. A friend, a Canadian in B.C. who's American-born-and-raised, put it this way: "We're at different places along the beach, but the same waves are coming at us."
This is it. Even in good times, sometimes because of good times, people can feel discontent. Empty. Envious. Angry. In difficult downturns — Canada has seen 12 recessions since 1929 — the temptation is also to catastrophize, to believe hopeless Chicken Little. The sky is falling. No, maybe day is becoming night before day returns. Life, even economic and political life, has rhythms and seasons. Fall becomes winter becomes, thank God, spring.
So take the long view. Take the long view on democracy itself. Be civically engaged. Be especially wary of the enemy within yourself. Read, for example, "Our Own Worst Enemy: The Assault From Within On Modern Democracy," by Tom Nichols. Heed the words of someone like 2021 Nobel Peace Prize Laureate Maria Ressa.
In all this, a nation isn't unlike a family. Pierre Poilievre — yes, that Pierre Poilievre — said as much when recently describing his family as "a complicated and mixed up bunch … like our country." Not to endorse Poilievre. Or anyone else. Sometimes I'd vote for the local dogcatcher over the options presented.
It is, however, to endorse authentic and vulnerable stories. Our common stories. This is what's missing in today's angry and shaky political discourse.