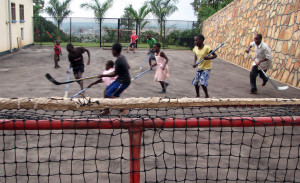 (The Hamilton Spectator – Saturday, February 15, 2014)
KAMPALA, UGANDA ✦ Okay, maybe it's too late for Sochi, but I hope you haven't forgotten about Olympic hockey in Africa. Yes, dear members of the International Olympic Committee, I'm before you to personally share the good news of a Ugandan ice-hockey team.
Of course, in Canada nobody says "ice" before "hockey" because Canadians realize hockey's natural state is with ice, even the frozen-pond variety.
Uganda, on the other hand, is a place where some poor soul with a hockey stick in-hand might yell out, "We're Manchester United!" before informing you that he's a "striker." But I'm working on this and I'm happy to report remarkable progress.
Pardon me?
Yes, I'm the Canadian who brought hockey to Uganda. I built Uganda's finest hockey pad. Well, it's the only one, I guess, the one behind my house, a ball-hockey pad for now, a thrilling work, really, that took several years and just a small land encroachment. Now to figure out outdoor ice.
Why do I believe Ugandans can play Olympic-level hockey?
Well, really now, why not? Remember those Jamaican bobsledders? And Eddie the Eagle? Besides, it's hard to keep those NHLers in the Olympics. If you lose them for 2018 in Pyeongchang, South Korea, what happens to the Games' showcase event?
Now imagine Team Uganda. Think of the crowds! Team Uganda 2018. You have to admit, it has a rather beautiful ring to it.
I can tell you at the moment the locals are playing better than American expatriates in Uganda. In fact, after many seasons, the mighty Yanks have now all but quit our weekend games. This, after someone's big toenail finally came off.
"This isn't a game. It's a blood-sport!" is how one of their youngsters put it. This, during a kids' game, boys against the girls – Canadians, Americans, Ugandans all together – when the girls beat the boys, who, naturally, didn't want this in any newspaper.
Maybe our American friends are still sore from Vancouver 2010. It was two in the morning in Uganda when Crosby scored that gold medal winner. We Skyped it in: television to computer in Canada, to our computer in Uganda, through a projector onto our wall, the poor Yanks all in our living room to watch.
Whatever the case, plenty of Ugandans keep showing up to play. They don't mind the rough stuff, checking and such into stone-pitched walls. And enough Canadian visitors have come over the years to help me display the game's finer points.
My wife also plays. We put her in net. She likes it. And brings the popcorn.
Our gear?
I bring sticks from Canada, but I bought our nets, regulation-size piping with fish-nets for mesh, in Yemen. There's another hockey upstart to consider for the Games.
Yes, next question? Why a Ugandan team in 2018 already?
Listen, Ugandans learn fast. Last Sunday I showed a Don Cherry Rock 'Em Sock 'Em video. "First you have to learn how to run on those skates," observed my gardener, Paul. He'll be Team Uganda's captain.
The others, with eyes bugged out, were equally quick. "They can play! You see by the way he is handling that!" and "You can't dodge them!" and "He has no teeth in his mouth!" and "Eeeh! The fighting!"
"This is a puck," my 8-year-old son then explained, showing the real Canadian deal.
It's all magnificent progress.
Granted, these Ugandans thought NHLers pay money, not make it. But this is fine for the Olympics. And when the Stanley Cup was shown and I explained that winning players can take it to their "home village," they couldn't believe it wouldn't be stolen.
(To be truthful, a couple of my Ugandan players once tried to walk off, literally, with some high-end running shoes donated from Canada. But in Pyeongchang 2018 I'd promise to personally watch things like, say, those gold medals.)
You've heard enough? Well thanks for your time too. Of course I'll keep you updated, especially on making outdoor ice in the tropics. Freezing maple syrup might help.
Oh, and thank you, yes, you can call this my Canadian mission, I suppose, to share our game of wonder where some wonder is needed. God knows the Ugandans appreciate it.