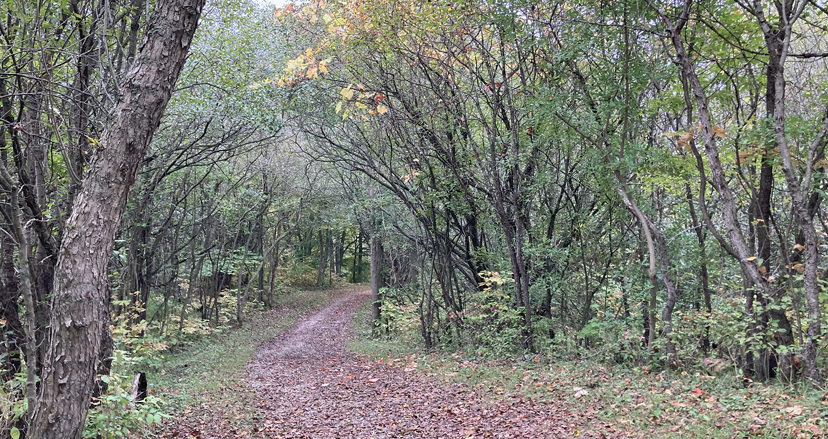 Thomas Froese
(The Hamilton Spectator – Saturday, October 7, 2023)
It was a tea house and I was having, funny enough, coffee, and the woman waiting on me was pleasant. She brought extra cream and looked at the book I was reading.
It was my birthday, a summer day. The book was, "Count Your Blessings." Then she said somewhat indifferently, "My father would probably like a book like this." I said, "Oh," and wondered quietly, "Why wouldn't you?"
It's a fair question. And a good one for Thanksgiving weekend. It's good to ask while, say, walking in the woods. Walk and imagine your life with nothing. Imagine everything gone: Your family, your friends, your home, your work, everything. I do this sometimes when sitting outside at daybreak, in the quiet. I imagine I'm completely new to the world with nothing.
Some people seem able to find meaning in just about any situation. In his seminal book "Man's Search for Meaning," Victor Frankl, who survived Auschwitz, explores the idea: Why, in suffering, some people are refined like gold, while others perish, or survive with just bitterness.
It's because you can have everything taken from you except one thing — your choice of how you respond. Frankl called this, "the last of human freedoms." It's something to think about on that walk in the woods.
I gave the woman in the tea house a fair tip, by the way, but nothing like what I gave one day after walking across the Rainbow Bridge. At the time you could walk over with just a driver's licence for ID. Then, after a beer in Niagara Falls, N.Y., I left the waitress $100 hidden inside a $1 bill. That's about $300 today.
Think what you may of this, it was a tough time in my life and at that moment, because I could get some air, I was thankful. It's a different Thanksgiving memory. I still wonder if that money might have been some wild answer to some secret prayer of that waitress. You never know.
In either case, don't be afraid to do such things. You may not get the chance later.
The other day I learned of the death of an extended family member, a Froese, a cousin not much older than me. I knew Linda to be beautiful in many ways, even though she lived on the West Coast and we didn't see each other often.
I thought about this too while recently on my own walk in the woods. Just saying, life is short. Today's obituaries, if nothing else, remind us.
So I'm thankful for two good legs to cart around a body with a few creaks, sure, even a thorn in the flesh. I've had arthritis for 35 years. But it does what good thorns do, keeps me aware of my weakness.
I'm thankful for my community and country. Not that things are perfectly run. It's often a circus. Then again, circuses are of interest to news gatherers. And look at the more disturbing chaos elsewhere on the planet.
Speaking of, I'm thankful for this newspaper and this space. God knows — no, really — where print journalism will go in Canada. So thank you advertisers, subscribers and supporters.
Of course, I'm thankful for my home, my family, friends. They're not perfect. By now they all know that, surprise, neither am I.
Then there's thankfulness for our understanding of thankfulness. Studies show what we already know in our bones, that gratefulness is healthy and especially helpful when rejecting the victim mentality the zeitgeist can promote. Being grateful helps ward off certain sickness and anxieties — that is our "dis-ease."
It's just a partial list. Very incomplete. Just one person's notes from one walk in the woods on one day in the fall — that time of year when everything is letting go. One walk to try to pay attention to what's so easy to miss in plain view.
Yes, each of us has much to give. Much thanks. We should do it more.