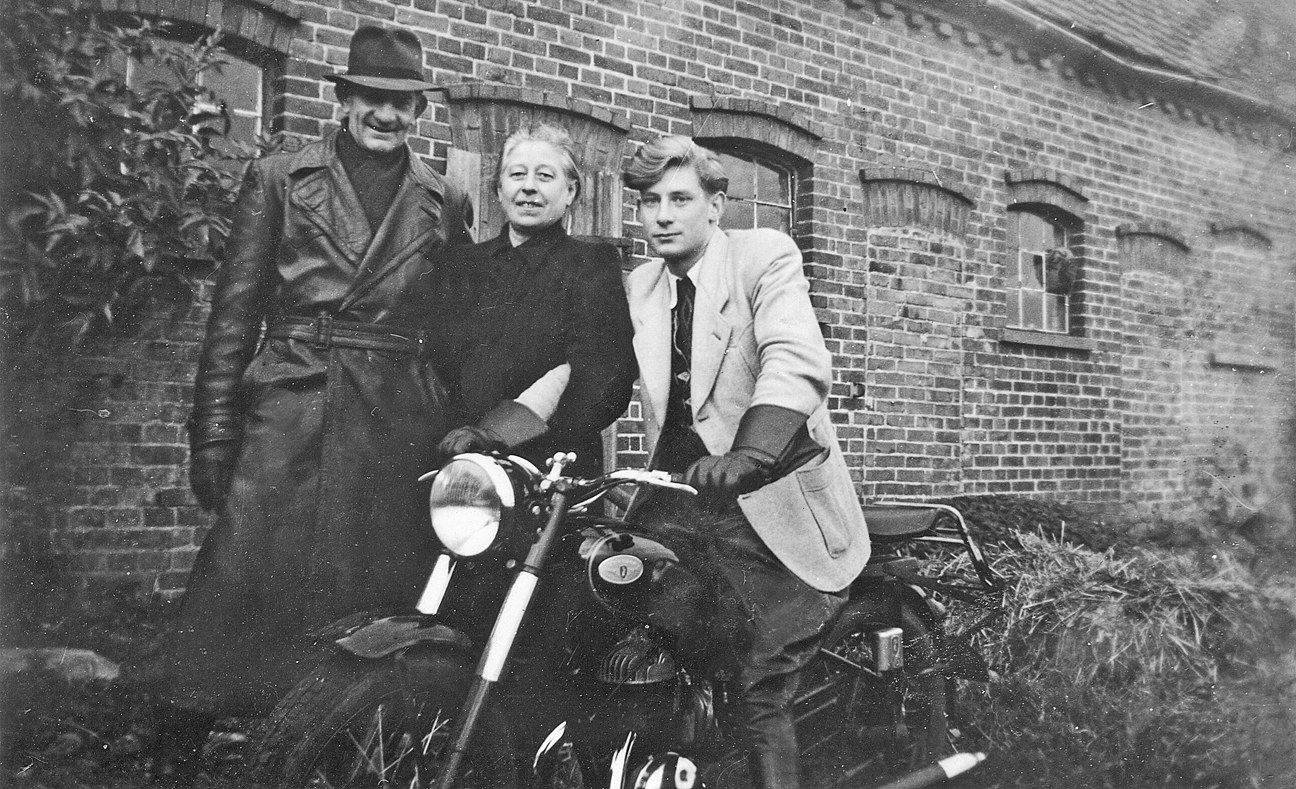 (Froese Family Photo)
Guenter Froese with his mother, Kaethe, and father, Franz, in this circa 1953 photo taken in Germany's Hamburg region.
(The Hamilton Spectator – Saturday, April 29, 2023)
Today's offering is about roots, and where we come from, and these sorts of matters that run under the surface of our lives. My father appreciated roots.
And what's not to appreciate? Roots bring nutrients. They stabilize plants and trees: tap roots for depth, lateral roots to anchor, sinker roots to find more water. In tough soil, roots can even rise above ground to look for that precious oxygen.
Sometimes roots can't hold, and a tree will crash in a spring storm. A family friend told me how her beautiful willow recently fell, its roots dramatically visible. Then she shared about helping her teen with homework about, you guessed it, roots. Then we talked about anxieties common to parents, and that whole storm.
It's true. Moms and dads everywhere, for better or worse, question themselves. Now that my children are around the age I was when I left home, several times, I understand more what my father felt. No, there's no manual for this stuff in any generation. Eventually you realize that as a parent you know pretty well nothing. Which is rather liberating.
But isn't it interesting how generations, like roots, can carry subterranean mysteries? Consider, for example, that my mother was a nurse. As was her mother. As was my mother's sister. So is my wife's sister. Like their mother. Our daughter, Child #1, is studying at McMaster. For what? Nursing. Is it something in the water?
More interesting, 70 years ago my father trained as a nurse. Now there's mystery. "My brother can be anything, but not a nurse," his sister had said at the time. In Germany it was easier to picture him on his motorcycle, looking like James Dean, or, later, with his axe and bushman beard, lumberjacking in northern Ontario. "My brother, Guenter, a nurse? Come on."
It was in broken, post-war Germany that my father left home. His training in nursing, and therapeutic massage therapy, is rooted there. His sister, now 93, must still be thinking about it. Dad Froese not only became a nurse, but eventually, in Canada, owned and operated a nursing home where he cared for, among others, his own mother and father. And the home's defining feature? The garden.
It was filled with exactly what you'd expect on God's good, green earth. Roots. It was the garden that never ended, stretching from one city block to another. Several detached houses now stand in its place. Think vegetables, root plants like potatoes and beets and carrots and you name it. If left unattended, the weeds, of course, grew like trees. And in the midst? There's this boy.
Sometimes in that garden, especially while planting in spring, my father and I worked late: mucky, cold, dirt in our hands, even under the moonlight. So when he eventually remarried (his first wife died) and I was best man, I gifted him a golden hoe, a plain hoe from Canadian Tire that I'd painted gold. I now keep that hoe – it's 30 years old – as a remembrance behind my own family home, beside a garden sign that says, "Sow, weed, water and wait."
I'm thankful I worked at my relationship with my father, like I worked that garden. Because we live with our parents even when we don't. I'm thankful, also, that my father knew his grandchildren. He often shared about our Mennonite heritage, even while still living in that aged home, photos of his paternal grandparents looking down from a living room mantel.
This is it. We're here. Then we're gone. A dying wisp of air. If we're lucky we'll leave things behind that will grow into something worthwhile.
A year ago today, April 29, some unexpected happenings allowed my children, with their mother and myself, to say goodbye together at my father's deathbed. He was later buried in a pine box. He wanted that. A plain pine box cut from a tree that grew from some root.
Then that cool, spring soil was pushed overtop.