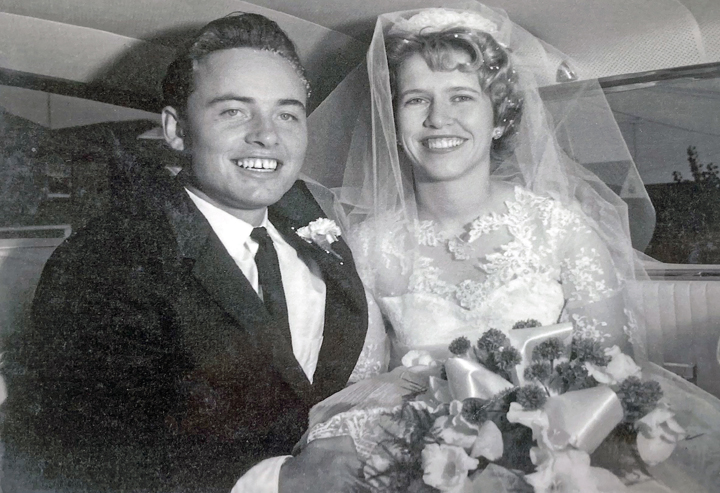 Margaret and Gerry Chamberlain on their 1960 wedding day.
(Courtesy of the Chamberlain Family)
(The Hamilton Spectator – Saturday, May 13, 2023)
She's the mother of my bride, Mum, or Mum Chamberlain, as I like to call her. I'm at her bedside. The children and my wife, Jean, are on live video from across the ocean, from East Africa. "We love you, Grams!"
Jean shares greetings from the team of Save the Mothers, the Ugandan-Canadian charity she helped birth and direct for years. Mum smiles. She knows the story. The history. The value of this trip, even for these grandkids. It's not every day they get back to where they grew up. Two are Hamilton-born, but all three call Uganda their "Motherland." Probably always will.
Mum Chamberlain knows. She knows her loved ones. Knows how to support them. Knows vulnerable mothers who often face death during childbirth. Knows how to support them also, behind the scenes.
Uganda? Mum and her husband Gerry went twice. Saw the places. The faces. And Yemen? Where Jean and I started our early years? It's not the world's biggest tourist destination. But they saw us there too.
"I love you all!" From her bed, Mum's voice flies 12,000 km away.
This is Margaret Chamberlain: career nurse, traveller, wife, mother of four, grandmother of 11, great-grandmother of four, and holder of, like many of the world's two billion mothers, a generous spirit. I recently asked her about it all: motherhood and family. Because, let's be honest, expectations of family life can often be unrealistically high. Or cynically low.
That day she shared with love and grace about each of her children. Their stories. Their families. This, also here from her space in this Hamilton care home where she lives with about 200 others. She's the only one with pink hair. That's Mum.
We met 23 years ago. Soon after, the job at hand was to celebrate her and Gerry's 40th. I recall the hunt for bride and groom mannequins, complete with gown and tux, representing the lovely couple. It was late summer, 2000. I'd just started dating her daughter.
And during my first time at her home, what did Mum Chamberlain say? "Come back anytime!" So I did, somehow invited into a family beyond my reach. But don't we all stand on somebody's shoulders?
Consider Jean, sometime after receiving the Order of Canada for her work with vulnerable mothers, crediting her parents. "They instilled in me that heart for people who don't have," Jean told one documentarian. "That you've been blessed, so what can you do for others? Not from guilt, but really from joy in your heart. That's one of the greatest gifts they've given me."
Now tomorrow, Mother's Day, a day celebrated in more than 100 nations. Tomorrow, also, Jean and the children return. The larger family will then see Mum Chamberlain for, humanly speaking, her last Mother's Day. It's cancer.
This is it. Mother's Day can be bittersweet. Still we celebrate. Because Mum Chamberlain is just one example of the reach that one life can have, especially in our time.
Consider that in 1860 the average grandchild spent just four years with their grandmother and one year with their grandfather. A century later, in 1960, the year Margaret and Gerry married, the average Canadian lived into their 60s, but many still never saw their grandchildren, never mind great-grandchildren.
Now the average Canadian woman lives to Mum's age, 84. And one in five of the world's 8 billion people are grandparents. That's significant cross-generational support and influence. It helps close generational gaps. In wisdom. In resources.
Gerry, by the way, doesn't remember the family story. It's dementia. This too is family life. But tomorrow, like he is at times, he'll be at his wife's bedside. And while he can't remember, what's one thing that Gerry can do? With surprising clarity? Pray.
So, somehow, he'll likely pray for his long-time bride. And Mum Chamberlain will hear from the children, young and old, about one thing or another. She'll be happy to hear it all.