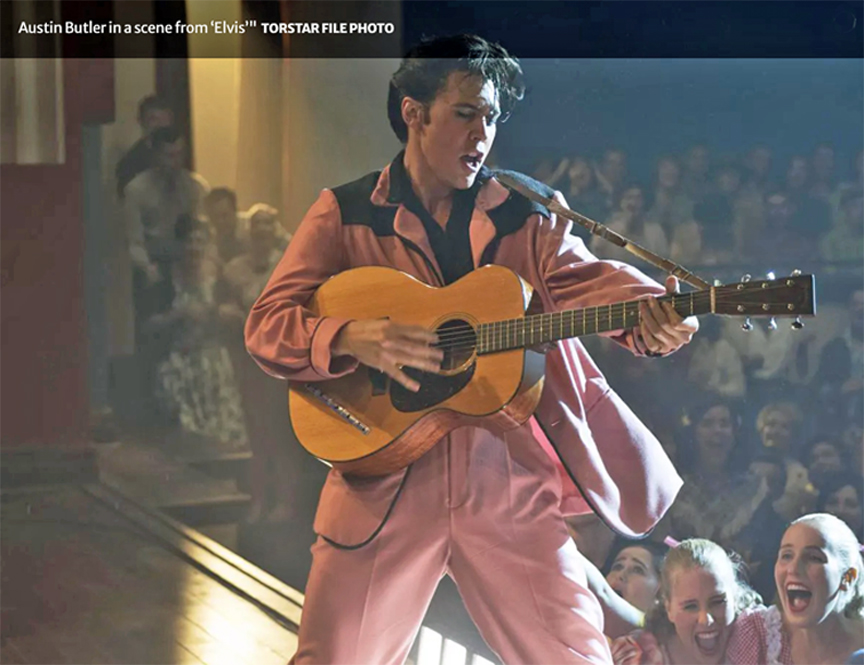 (The Hamilton Spectator – Saturday, February 25, 2023)
The interesting thing about Elvis is that he crossed borders. With the Oscars approaching – Baz Luhrmann's Elvis has eight nominations – it's something to think about.
Not those sorts of borders. And not that I was really around. I was 12 when Elvis died. My mother-in-law, though, was there when Elvis and his pelvis shook the world. She told me when I took her, in her wheelchair, to see the movie.
"Marg, you have to come and see this," her cousin yelled one day in 1956 from one room to another, Elvis there on her uncle's TV screen. "People found him different, even strange at first," she told me. "I remember talking about it with my mother, driving home from my uncle's."
Before my mother-in-law, I'd taken my three teens, in two visits, to the theatre. Austin Butler's remarkable rendition of Elvis was worth it. Later I took my bride. So I saw this film four times. We all have our fascinations.
As a teen I read about what went wrong with Elvis, even as I'd stand on a stool to reach atop a kitchen cabinet to play, say, "Unchained Melody," on my new double-cassette-LP stereo from Canadian Tire.  Or, on my Walkman, "You'll Never Walk Alone," during late-night walks. The King of Rock and Roll, I discovered, had another side.
Consider "Don't Cry Daddy" and its lyrics: "Daddy, please don't cry. Daddy, you've still got me and little Tommy. Together we'll find a brand new Mommy. Daddy, Daddy, please laugh again," and so on.
Around when Elvis recorded this song, my mother had left my father and us two kids for eternity. I imagined I was little Tommy and Elvis had somehow reached through the fabric of the universe just for my family. I felt, like others, connected.
Now my own kids. My 17-year-old Ugandan-born girl offers this: "The movie wasn't cringy." That's high praise from a teen. "It was complex. Showed real life. Good soundtrack." Thanks Hannah.
And while Luhrmann typically uses plenty of creative license in his films, exploring Elvis through Black music and culture is something he gets spot on. In addition to crossing generations and musical genres, Elvis, essentially a Black singer in a white body, crossed racial barriers.
Consider (this isn't in the movie) his appearance at Memphis' Goodwill Revue for a 1957 fundraiser for Black kids, with Black stars like BB King. That took, as King later wrote, "guts." Segregation laws ruled the South. But the Pittsburgh Courier reported this, "A thousand Black, brown and beige teenage girls in the audience blended their alto and soprano voices in one wild crescendo of sound that rent the rafters."
This, naturally, threatened the tongue-waggers of the day.
And while the Luhrmann film focuses on Elvis' long-time handler, Colonel Tom Parker, it also asks, poignantly, if, with Parker's toxic enabling or not, it's the unbridled adulation, the crowds, that caged or even killed the addicted Elvis as much as anything else. Are we the monsters? The drug?
To know and be known. This is what we need. You. Me. Elvis. Anyone. We don't need to be known by many people, but, rather, just a few who know us well, even by one, who, despite ourselves, loves us. This is our deepest human need. The poets and social scientists tell us. Life itself affirms it. Finding fame (50,000,000 Elvis Fans Can't Be Wrong and all that) is one way to live. But it's a shaky way.
When she was just nine, little Lisa Marie hugged her dead father on the floor of Graceland. "My Daddy is dead," she said. Now Lisa Marie is gone, also early, after her own life of collected sorrows. This is the long shadow that fame can cast.
In our time, more than ever with handy technology, people are looking for attention, clamouring for the stage. But it can all be deceptive. Of everything that Elvis left behind, this note is what's worth the most.