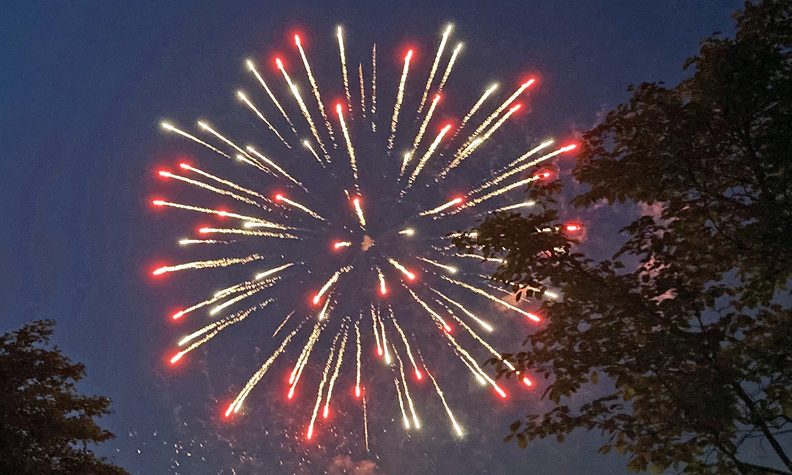 (Thomas Froese)
(The Hamilton Spectator – Saturday,  June 3, 2023)
The life of my mother-in-law, Mum Chamberlain, is now marked in a burial plot near the shade of old trees. Recently it's been celebrated in various ways. It reminds me of fireworks. Not that "celebration" is a perfect word for these matters. Death can still drag in its bag of fears.
My own fears of death came when I was a boy standing at my Opa's casket, which was closed, waist down. Unable to see my Opa's legs, I concluded they were cut off to fit him in. Later, I often dreamt of evil men coming to hack off my own legs. It was an unfounded fear, but fear nonetheless.
Then there's the mystery of the other side. The enigmas in the best Agatha Christie can't compare. Even the ancient scriptures, helpful as they are, concede that no eye has seen, no ear has heard, no mind has conceived what's in store from our Creator for that long tomorrow.
In either case, we need to talk about death. And dying. Not all cultures do this well. In the west we easily talk about anything but. Death is often trivialized or sensationalized. In her book, "With the End in Mind: Dying, Death, and Wisdom in an Age of Denial," Kathryn Mannix makes that point. A physician for decades in end-of-life care, she brings some welcome understanding.
She notes our sense of dying has changed especially with modern medical advances that, ironically, extend life. Instead of dying peacefully at home, as was common, now we might go in some screaming ambulance, or a cold ER, or ICU, or operating room, no loved one near to hold a hand or listen to a last soft breath.
What's the biggest fear for most people, all the more since the pandemic? Dying alone.
Mum Chamberlain, Margaret, died in an exceptional public hospice in Dundas named, fittingly, "Margaret's Place." Two daughters at her bedside held her hands. Stroked her hair. Sang hymns. Eventually one, Jean, my bride, woke me. Along with our eldest daughter, also there, I'd fallen asleep. It was just past 3.30 a.m. "Mum's dead."
I wonder if she experienced something like flying, maybe a little nervous before finally taking off. Then the ascent, and levelling-off of the flight. Then relief, really, that she's actually left the show, the entire circus of it, Earth, forever. Just pure joy now. Good God.
By the way, what did Mannix, as a young doctor, say to the first dead person she saw? He was so newly-dead, he was still, in her words, "working out how to be dead." She said, "Thank you." It's a good ice-breaker, I suppose. I like it, that spirit. "Thank you." But, back to the living, one wonders why it's so hard to talk about dying. One-out-of-one dies. It's the ultimate statistic.
Mum Chamberlain died 23 years to the day after we'd met. That day, at her house, I'd picked up her daughter for our first date. After friends never showed to watch a baseball game, Jean and I opted instead for dinner and fireworks. It was Victoria Day.
So when it comes to this business of living, and dying, it's fireworks, funny-enough, that come to my mind. Especially for lives that have been lived more by faith than by sight.
Not everyone lives this way, of course. Some people choose more hellish ways. My own understanding is that if we choose life now with a measure of heaven, (or hell), then on the other side we'll experience the same, just exponentially more. In this, we reap what we sow.
More to the point, though, the need – and it will only get larger – is to help the frail die with dignity. With a soft landing. That's not suggesting a shot of secobarbital for an early MAID exit. That's a train that's already flying horribly off the tracks.
Rather, it's celebrating quality palliative care. Like at Margaret's Place. We need more of these humane, well-thought-out supports. Lots more.