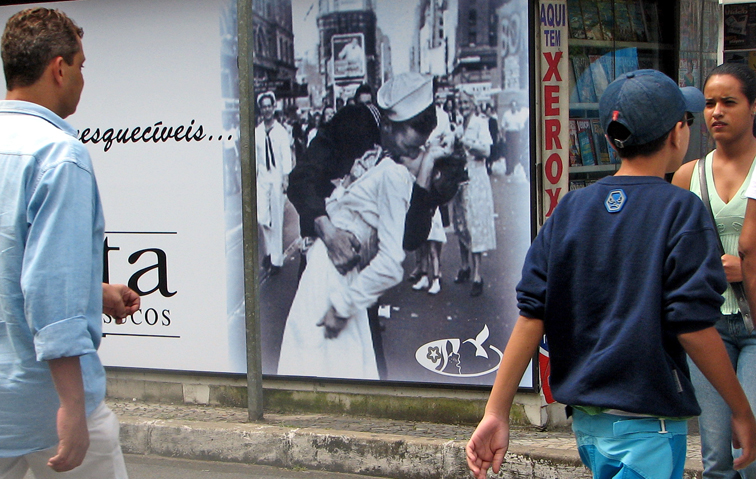 (Thomas Froese)
Passersby in Belo Horizonte, Brazil, walk past a mural of the so-called Kiss of the Century, photographed at the end of the Second World War in New York's Times Square.
(The Hamilton Spectator – Saturday, July 29, 2023
Let's see now: Cynthia, Cloe, Cindy, Carole, Cassandra, ah, here we are. Cathy. The first girl I ever kissed. (Or did she go by Kathy?)
(This doesn't include the failed kissing venture in the park trees involving Penny and Patty with myself and my boyhood buddy, Paul, on that summer day when I should have been home working in the garden.)
But about Cathy. She was a bridesmaid at my sister's wedding. The glasses were clinked. So Cathy and I stood and walked to each other and kissed. I was a shy, pimple of a boy. She was older and attractive and an experienced kisser. Someone snapped a photo. Wowzer.
It comes to mind because I recently read about a survey. (By the way, can the world's surveyors please, PLEASE just leave us alone with the constant and annoying questions about what we felt about the quality of service?) This particular survey was on, you guessed it, kissing.
It included plenty of Europeans. Apparently only people in the EU kiss. This explains Brexit. Brits simply don't like kissing. So, according to the survey, they're lousy kissers. Same with Germans. Well, apparently Germans kiss worse than Brits.
I'm German, and it's true, in grade school here in Ontario the kissing girls never invited me to their parties. I was no hawk in these matters. I wore lederhosen. I was a Bundesligaer in a game played by French and Italians. In the kissing survey, the French and Italians were best. And the Italians, champions.
This is interesting because we all know of the French kiss. Ever hear of Italian fries? No. Italian toast? No. So now Italians can out-kiss the French? Then again, this kissing survey was done in (surprise) Florence, Italy. That's like asking an Italian if Maldini, (a popular Italian footballer), is better than Platini, (who's French born).
This is why we should now open things up and have a proper kiss-off. A world kiss-off. Call it the World Cup of Kissing. Invite the Africans. The Asians. Invite kissers from the Arctic. From everywhere. Then, people, we'll have an interesting survey. And a fair one. I mean, visit, say, Brazil and everyone will talk about Pelé. It's true. Everyone has their players. Even Canadians.
I suggest starting with local kiss-offs, then regional and provincial and so forth. For example Hollywood bombshell Rachel McAdams, known for lavishly kissing Ryan Gosling on MTV, grew up in St. Thomas. My bride, as it happens, is a native of St. Thomas. My bride (who'd be kissing me) would easily win this kiss-off, so she and I would move on, eventually, I suspect, to the larger world stadium events. ESPN and SEC and TSN would be there.
Speaking of Brazil, I was walking around there one day, a few hours north of Rio, when I passed a mural of the so-called Kiss of the Century. You know, the American sailor and the woman in a white dress in New York's Times Square, kissing after the sailor learned the Second World War had finally ended.
The woman, Greta Zimmer Friedman, had little choice in the matter when George Mendonsa spontaneously grabbed and kissed her. In 2023, sailor George might be charged with assault. Even so, even in anxious times, murals in foreign lands show people still don't mind celebrating an honest kiss.
The only other thing to say is that today is my wedding anniversary. That's right, it's been 22 years. So my bride and I will celebrate with, you know, kissing and things. But here's a fun fact. Unwittingly, we wed 20 years to the day after Charles and Di, on July 29, the day those two royals stood on their palace balcony to show the world their kiss royale. Then their marriage exploded like a supernova.
Just saying. It's good to enjoy summer kisses, even as it's good to enjoy summer anniversaries. But good relationships need more than a good kiss.